Details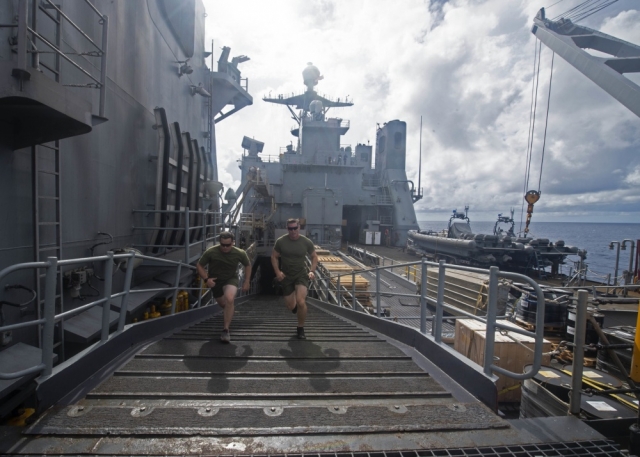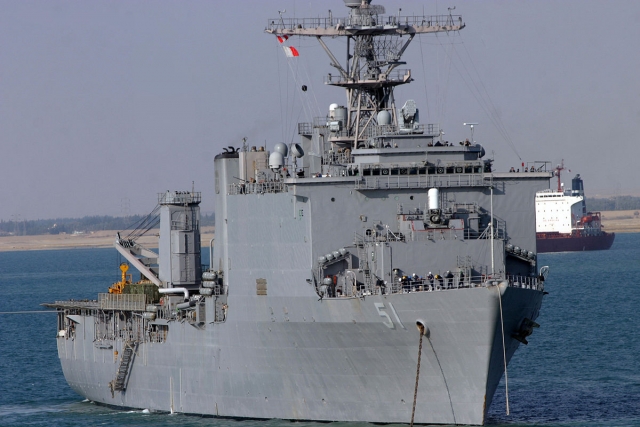 Silvagrip® applied to USS Oak Hill (LSD-51)
Details
Interview with Ryan Kelly, Port Engineer, Houston Pilots
March 22, 2017

This email address is being protected from spambots. You need JavaScript enabled to view it. • 713 805-6229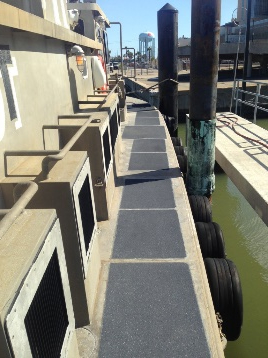 Houston Pilots has installed Silvagrip® Peel and Stick Non-Skid on three boats ranging in size from 50' to 72'. These boats are SWATH vessels built for pilot boat station duty. The boats are almost square in the fact that the length and beam is similar dimension. The boats go out for one week at a time, approximately 7 to 9 miles out.
These boats do not have hand rails down the sides due to the fact they would be ripped off during the docking process coming along side another vessel while making crew transfers. The sides of the boats are high traffic areas where extra safety is required. Silvagrip® has been installed along these aluminum walkways.
The Houston Pilots were introduced to Silvagrip® at their booth at the International Workboat Show in New Orleans in December 2015. The 10-year warranty was of interest to them. The Houston Pilots has a full shore crew who installed the Silvagrip® according to Chuck's instructions. They had no problems with installation.
In the past they have used paint, glued products, 3M products, and safety strips on this particular area of the boats. They had problems with these products wearing down and having no grip. They have not had this problem with Silvagrip®.
It has been almost a full year since Silvagrip® was installed and they have had no issues at all with the product. While they have not experienced icy conditions, they do experience weather below 30 degrees. The area where the Silvagrip® product is installed experiences wet salty spray often. They chose a gray color as it does not glare in the sun. It also matches their boat color.
Currently they have two boats under construction overseas but to the best of Ryan's knowledge these boats have not been spec'ed with Silvagrip®. Once the boats arrive they will add finishing features which may include Silvagrip especially if the crew requests it.
"We currently have Silvagrip® installed on walkways on three boats to improve the safety of our crew. After a year of use the product has had no issues and the crews like it. It was easy to install and has not worn down at all which happened with other products".
 Ryan Kelly, Port Engineer
Details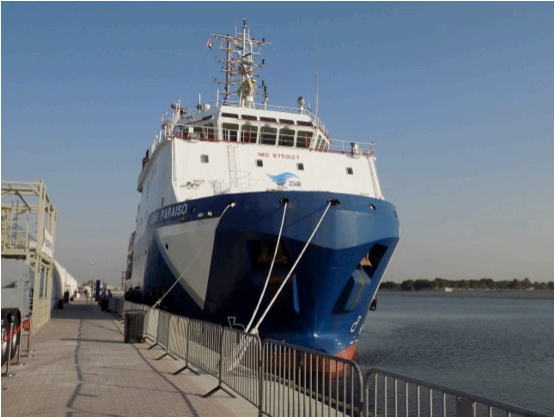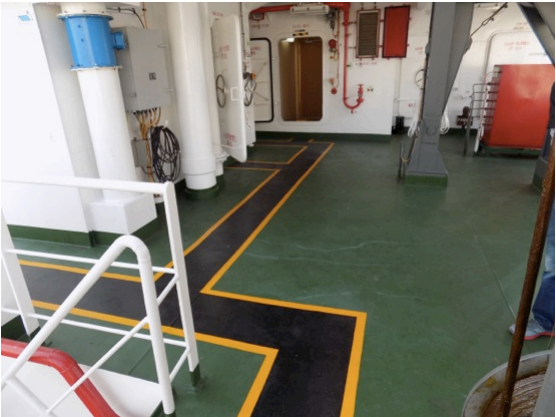 After trying out Silvagrip® at our booth during the Abu Dhabi Expo,
Zakher Marine Int'l ordered an installation of Silvagrip® on their decking walkways.
Details
Stand Ramp with Silvagrip® Applied
The ramp is in three sections: lower platform, inclined ramp, and upper platform. It is designed to take up to 200 KG of weight and is makde of lightweight aluminum. The inclined ramp is pitched at 35º - which is 5º more than is recommended for any vessel ramp. This allowed people trying the ramp to really 'feel' the grip of the Silvagrip®


Details
The key aim of Offshore Technology Reports (Special Reports) is to provide users with an unparalleled depth of information on specialist subjects, which receive limited coverage in the mainstream upstream oil and gas media. Each report contains subject specific technical information, independent data, analysis and opinion, and other advanced content and draws on the expertise of internationally recognised key opinion leaders, award winning journalists and leading industry commentators.
Designed to facilitate debate and written to the highest professional standards, our Special Reports include:
Unbiased Editorial Content: Expert and authoritative analysis from award winning journalists and leading industry commentators

Thought Leadership: Advice and guidance from internationally recognised key opinion leaders.

Peer Input: Contributions from senior E&P personnel and upstream oil and gas industry professionals.

Supplier Provided Content: Technical papers, webinars, videos, research reports and other content provided by leading suppliers to address key issues and challenges facing the global offshore oil and gas industry.