Details
A National Stock Number is simply the official label applied to an item of supply that is repeatedly procured, stocked, stored, issued, and used throughout the federal supply system. It is a unique item identifying series of numbers.
The NSN is officially recognized by the United States government, the North Atlantic Treaty Organization (NATO), and many governments around the world. Federal Agencies, including the Department of Defense (DOD), use the NSN to buy and manage billions of dollars worth of supplies yearly. Currently, there are over 6 million NSNs in the federal supply system.
Details
The National Safety Council's magazine Safety + Health featured Silvagrip® as a new product. Safety + Health is the official magazine of the NSC Congress & Expo.
Details
Interview with Ryan Kelly, Port Engineer, Houston Pilots
March 22, 2017

This email address is being protected from spambots. You need JavaScript enabled to view it. • 713 805-6229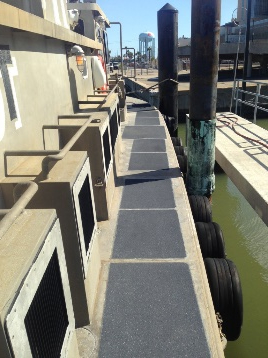 Houston Pilots has installed Silvagrip® Peel and Stick Non-Skid on three boats ranging in size from 50' to 72'. These boats are SWATH vessels built for pilot boat station duty. The boats are almost square in the fact that the length and beam is similar dimension. The boats go out for one week at a time, approximately 7 to 9 miles out.
These boats do not have hand rails down the sides due to the fact they would be ripped off during the docking process coming along side another vessel while making crew transfers. The sides of the boats are high traffic areas where extra safety is required. Silvagrip® has been installed along these aluminum walkways.
The Houston Pilots were introduced to Silvagrip® at their booth at the International Workboat Show in New Orleans in December 2015. The 10-year warranty was of interest to them. The Houston Pilots has a full shore crew who installed the Silvagrip® according to Chuck's instructions. They had no problems with installation.
In the past they have used paint, glued products, 3M products, and safety strips on this particular area of the boats. They had problems with these products wearing down and having no grip. They have not had this problem with Silvagrip®.
It has been almost a full year since Silvagrip® was installed and they have had no issues at all with the product. While they have not experienced icy conditions, they do experience weather below 30 degrees. The area where the Silvagrip® product is installed experiences wet salty spray often. They chose a gray color as it does not glare in the sun. It also matches their boat color.
Currently they have two boats under construction overseas but to the best of Ryan's knowledge these boats have not been spec'ed with Silvagrip®. Once the boats arrive they will add finishing features which may include Silvagrip especially if the crew requests it.
"We currently have Silvagrip® installed on walkways on three boats to improve the safety of our crew. After a year of use the product has had no issues and the crews like it. It was easy to install and has not worn down at all which happened with other products".
 Ryan Kelly, Port Engineer
Details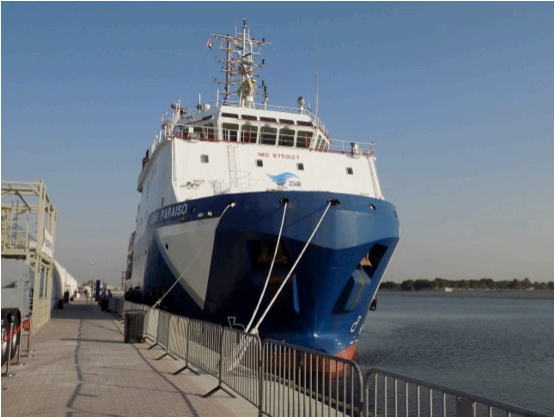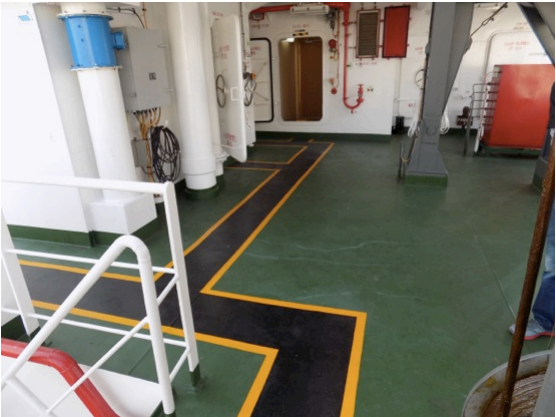 After trying out Silvagrip® at our booth during the Abu Dhabi Expo,
Zakher Marine Int'l ordered an installation of Silvagrip® on their decking walkways.